24/04/2013

Kicking off our U.S. East Coast tour with Gasmask Terrör tomorrow, April 27th until May 12th. We will have a special edition of our LP available at our shows. You can also purchase the record online through Deranged, Build Me a Bomb or Destructure records. http://youthavoiders.bandcamp.com/album/youth-avoiders Here are the dates and cities for our U.S. tour : 27/04/2013: Worcester, MA
28/04/2013: Brooklyn, NY
29/04/2013: Philadelphia, PA
30/04/2013: Washington D.C.
01/05/2013: Richmond, VA
02/05/2013: Raleigh, NC
03/05/2013: Charlotte, NC
04/05/2013: Gainesville, FL
05/05/2013: Atlanta, GA
06/05/2013: Nashville, TN
07/05/2013: Columbus, OH
08/05/2013: Cleveland, OH
09/05/2013: Rochester, NY
10/05/2013: New Brunswick, NJ
11/05/2013: Brooklyn, NY

15/01/2013

We will be on tour in eastern US with our friends Gasmask Terrör from April 27th to May 11th. Check out the Shows section of the website for more details. Also, we are recording our first full length which will be out in April on Destructure and Build Me A Bomb records. Get in touch if you would like to release it outside of Europe.

10/06/2012

13/04/2012

Hey, we're off for a two weeks US west coast tour with Acid Fast (Oakland) and Autistic Youth (Portland) !
You can have a look on the tour poster here: www.buildmeabomb.com/posteryouthavoiders/
Hope to see you there!

12/20/2011

We've just released a 4-track 7" EP called Time Flies. You can order it from Destructure records and Build Me A Bomb records. Also, if you're from the US, our demo 7" and split 7" are available at No Idea distro. We are planning on doing a west coast US tour in April, send us an email if you want to put up a show for us.

07/27/2011

Hey, some news from the band, well, quite a lot of news.
We played an amazing festival called Pfingstfest in Germany at Mannheim, it was a great experience, we hope to do more shows in Germany in the future. We have already planned to play the Hardcore Winter Fest in Tübingen in December.
Also we've been interviewed for Maximum Rocknroll, we are in the latest issue (#339), check it out here, and more information on their website: maximumrocknroll.com.
We've just released another version of our split 7" with Zombies Are Pissed!, same vinyl, different artwork. This one is made by Nagawika from Paris (Bestial Avenger, some covers for Ratcharge fanzine,...) and it's limited to 50 copies handnumbered to make it very special. E-mail us if you want to get one of these.
We are working on another release, we're just not sure if it's gonna be a 7" EP, a split 7" or a 12". We will let you know as soon as we've got a more accurate idea about it.
We are also planning on touring the US, probably West coast around April or May 2012.

04/07/2011

Our split 7" with Zombies Are Pissed! is now available on Destructure, Wee Wee and Emergence records. 400 copies on black and 100 copies on red wax. You can also download the tracks for free, check out the Media section. We are doing a few dates in France with our friends Police Truck, they have also a new record out, you can listen to it here or download it for free here.

We are also planning a small European tour for the end of July, send us an e-mail to bbqchicken(at)hotmail.fr if you're interested in us playing your gig.

02/08/2011

Hey, we've got some news for you. It's been a while without a word from us, sorry about that.

We've released our demo on 7" vinyl with the help of Build Me A Bomb records, Middle-Class Zombies Attack! records and Negative Youth records. You can order it from their online shops. Pressing information are in the media section.

We also made few shirts, check it out: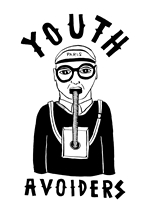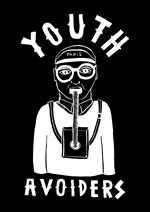 Design made by Russ from Sketchstance and Cold Ones (RIP), thanks a lot mate!
If you want a shirt, send us an e-mail and we will sort it out with the postage and all.

To be released soon, a split 7" with our dear friends Zombies Are Pissed! from Caen. It will be out probably around the end of March on Destructure records, Emergence records and Wee Wee Records.


12/24/2010
Alright, now we've got an english version of the website, hope you'll like it.
We are Youth Avoiders from Paris, France, except our guitar player, Christoph, who is from Germany.
We recorded a 7-track demo early 2010, which has been released on cassette (by Give Us A Chance / Middle-Class Zombies Attack! / Negative Youth records) and which is going to be released on vinyl as well (january 2011). For those who are from the States, you can order the tape from Grave Mistake records, and for those who are from Germany, check out Spastic Fantastic's distro. You can also send us an e-mail: bbqchicken(at)hotmail.fr.